As soon as I signed a permanent contract after my studies, I bought a first apartment. I was still in a roommate and I still had a very modest life, modeled on my student period.
The purchase of a first property, often the main residence, objectively depends on:
Your professional situation, your income and your savings.
Your prospects and your desires.
Are you able to buy your principal residence?
What does your bank think?
I hate depending on someone's opinion for a project. However, it is an obligatory step to be able to project yourself better and commit yourself.
Your bank adviser will be able, depending on your situation, to determine your borrowing capacity.
Most banks retain between 30% and 1/3 of the income, then look at the rest to live to assess the credibility of the operation.
Take the median income in France, 22:
At the current rate according to MeilleurTaux, this allows you to borrow around €140:
It is then necessary to see how the bank envisages the financing: does it cover the price of the property + the costs and transfer rights ("notary fees")? This is called "110%".
If it can fully finance the price of the property but not the costs, we speak of 100% financing.
Finally, some banks prefer to finance only 2/3 of the property, for example, to have more guarantees in the event of a payment incident if the market turns.
In addition, your bank profile (absence of overdraft, regular savings, etc.) may participate in your bank's decision.
What do you think ?
Do you instinctively want to own your home?
Will you always keep your spirits up when you have to pay your property taxes?
Where do you see yourself in 5, 10 or 15?
If it's here, in the same city, in the same job, don't hesitate to have it: it will always be more profitable in the long term to be a landlord rather than paying a rent with no funds.
Conversely, if you plan to move and complete another project, you will have to do the math. For each city, depending on the purchase price of a property and the average rent, there is a minimum period of ownership for the purchase of your principal residence to be profitable.
(If you don't know, you're usually not going to move either, so buy ;)).
Example of the purchase of an apartment in PARIS
Let's start with a concrete example:
- Paul is a tenant of a 23m² studio in the 18th district for 700 € per month including charges.
- He finds an equivalent to the purchase for 170 € + 000 € of notary fees; the property tax is € 12 per year.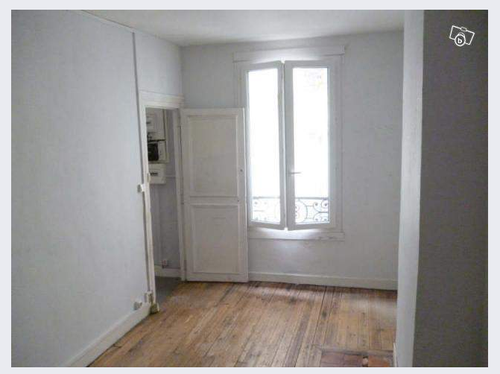 - He negotiates the loan for the whole with his bank, ie € 182 + € 000 for lending privilege of money as a guarantee + € 1 for administrative fees = € 100.
– Over 20 years, with a good rate, this gives a monthly payment of €1 (variable insurance rate depending on the age of the borrower and his state of health).

1 / Balance sheet over 20 years.
- While being owner, Paul will have paid € 183 + € 500 credit cost + € 78 * 390 property tax + € 400 charges (20 / ms) = € 12.
He now owns an apartment valued at € 252 (€ 611 at 170% over 000 years), i.e. a loss of € 17.
- Remaining tenant, his rent is likely to increase by around 1% per year: he will therefore pay nearly € 170 in rent over 000 years; by placing the savings made on passbooks (20 € / ms at 441%), he obtains € 2. If he opts for 129% life insurance, he gets € 511. In the end, he achieves a loss of € 18.
2 / Balance sheet over 40 years.
- the tenant pays around € 350 in rent, with a life insurance contract of € 000 on hand, i.e. a gain of € 63.
- the owner pays € 16 in property tax + € 000 for the acquisition cost of the apartment = € 269.
Now that his loan is over, he places his € 1 / month on a life insurance contract, which brings in € 091 20 years later. Charges go from 375 to 800 € over this period.
In addition, his apartment is valued after 40 years at € 370. Its balance sheet is therefore 000 + 375 - 800 - 375 = € 450 gain.
3 / In conclusion:
This highlights that the correct calculation for choosing to own a home or not depends on your future plans. Do you plan to stay in the region or leave soon?
If you don't have specific plans and the means to own a home, this is the best choice. Depending on the city and the average return on property, depending will simply take longer for the operation to be profitable. This is the meaning of the article published by Le Figaro :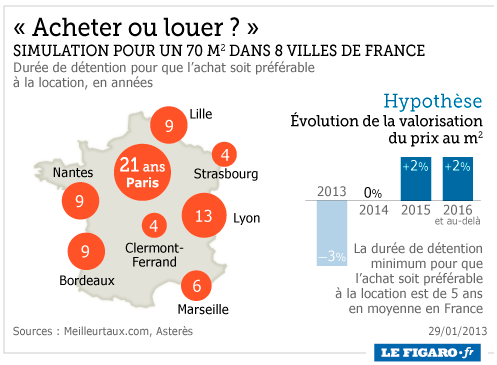 It's up to you to do the calculations in your city!
(All values ​​/ assumptions in the article are debatable, but without affecting the reasoning and conclusion - I find 20/21 years for Paris too).
I earned my first income on the web in 2012 by developing and monetizing the traffic of my sites (AdSense ...).

Since 2013 and my first professional services, I have had the opportunity to participate in the development of more than 450 sites in more than +20 countries.
Create and optimize your Google Ads campaign with your specialized Profiscient guide…